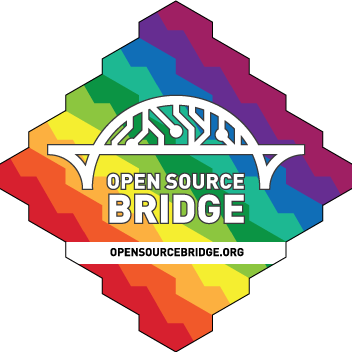 The schedule for this year's Open Source Bridge conference is up, and it looks like another great program!  
It kicks off at 9 a.m. on Tuesday, June 21, with a keynote by Shauna Gordon-McKeon on Free Culture in an Expensive World, and then breaks out into multiple tracks.  Wednesday's keynote is by Julia Nguyen, on Exploring Mental Illness with Open Source, and Audrey Eschright is on Thursday with Creating a Third Wave of Free/Open Source Software.  Good stuff!
As usual there are a ton of interesting topics on the agenda.  Some of the sessions I'm especially looking forward to include Kronda Adair on Building a Life with WordPress, Jennifer Rondeau on What can the open source software of today learn from the history of software documentation?, Audrey Eschright (again) on Unraveling the Masculinization of Technology, Meghan McClelland on Finding funding for an open source based business, Alolita Sharma on  The Rise of Emoji, Anne DeCusatis on More Than Binary: Inclusive Gender Collection and You, Rebecca Jennings on The Ability to Disable: Who Did You Forget When You Designed Your UI?, Denise Paolucci of Dreamwidth on Hard Problems in Terms of Service Enforcement ... and of course Tammarian Rogers and me on Supporting diversity with a new approach to software :)  And that's only the tip of the iceberg; check out the full schedule to see lots of other goodness.
If you're thinking "wow, that sounds great, I really want to go to", then you're in luck: for the rest of this week, the discount code osbgenerosity gets you $42 off.  
And if you're thinking "wow, that sounds so different than most technical conferences," you're very right.  A lot of conferences say they want diversity but don't treat it as a priority; at Open Source Bridge, it's the core of what they do.  I'm consistenly impressed with how much they do to make it happen.
One of the new things they're doing this year is a crowdfunding campaign.  As the organizers write in We're Crowdfunding on their blog:
We cover part of our costs by selling tickets to attendees like you. We also offer sponsorships to organizations wanting to reach Open Source Bridge attendees. We already have a venue and an amazing batch of speakers. But there are other costs of running a conference that are harder to cover through sponsorship. We're asking for your help to cover those costs and to help us make Open Source Bridge more sustainable.
They're looking to raise $8000 via crowdfunding , which will cover honorariums for keynote speakers, free childcare for all attendees, and scholarships for food and travel.   Those all seem like great priorities to me, so I chipped in.  If you value diversity and open source, please consider supporting Open Source Bridge!